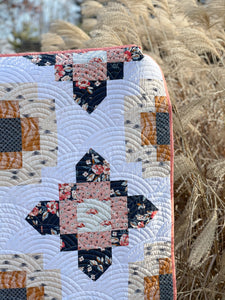 Longarm quilting by Katie @thirdcoastquilting Hello all! Well it's that time of year again!  Everyone is gearing up Christmas sewing. I wanted to write a blog for those of you who may be sending your quilts to a longarmer for the first time (or, if you are like me, just want to make sure you are doing it right).  So I contacted a couple of my friends who own their own longarming businesses and picked their brains about how the process works, what to expect and what we, as quilters, can do to help them longarm our quilts.  I spoke...
---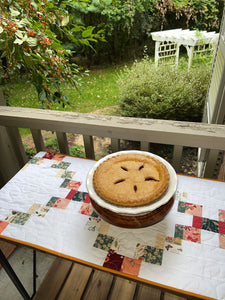 This Cozy Trellis Runner is the perfect scrap busting project for the holidays!  It's a very simple runner made with strip sets that will create a big impact. Here is what you need to make it: 1 yard of background fabric (Minimum needed is 32.5 inches.) 10 different 1/8 yards of fabric for the "trellis" squares ½ yard of binding 1 ½ yards of backing Want to make the accent fabric extra scrappy?  You will need (68) 2 ½" squares and (56) 1 ½" x 2 ½" rectangles.   Cutting instructions: For the background strips, I've created a guide so...
---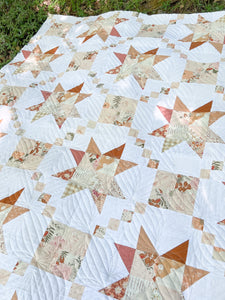 Today I'm releasing my fourth quilt pattern, the Hesper Quilt! Buy the Pattern Here! My Hesper quilt is my ode to two of my all-time favorite blocks: stars and Irish chains.  When designing this quilt, I wanted something that felt vintage.  I don't know about you, but I just love something that looks like it could have been made a hundred years ago, too. I also wanted to create a block that incorporated every single fabric from my Beloved bundle.  I curated this bundle for Art Gallery Fabrics as part of their Sewcialite program. I didn't want to leave...
---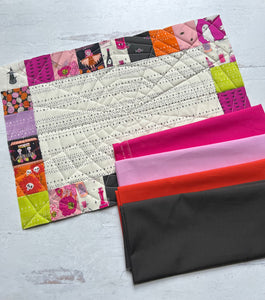 Please note:  this post contains affiliate links.  I receive a small commission, at no additional cost to you, when you shop these links.  Thank you! Hello again! Can you believe summer is almost over and fall is almost here?   Around the Midlife Quilter household, my two kids love Halloween.  My youngest is in it for the candy and my oldest loves to dress up and make her own costumes.  She loves all things spooky. So I decided to get into the Halloween spirit this year and make these cute and simple placemats.  I love them because they use fussy cut...
---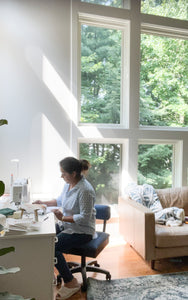 Last week, I had the pleasure of chatting with Amanda @notyourgrannysquiltshow for an interview for her podcast.  We talked about so many things, but it was one of those moments when I had a bird's eye view of my journey so far. If you had told me when I purchased my first little sewing machine off Amazon, that I was starting this incredible journey, I think I would have wanted to believe you, but not sure I would have. On paper, I'm the least likely suspect to have come this far.  I didn't grow up quilting.  I didn't know...