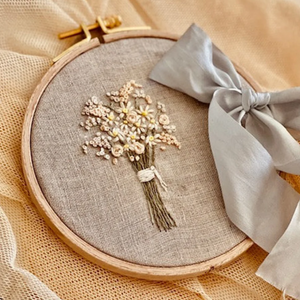 Julia's Broidery
Summer Bouquet Embroidery Kit
Regular price
$28.00
$0.00
Unit price
per
We currently have 1 in stock.
Embroidery kit for beginners and advanced sewers alike. Inspired by nature, this kit includes a 10x10 inch piece of organic fabric with the design drawn on it. DMC threads (Oeko-Tex 100 certification) in the 10 colors shown and an illustrated instruction card made on recycled paper and printed with soy inks.

This design is 2.25 inches wide and 3.25 inches long and fits in a 4inch hoop. Hoop is NOT included.
Embroidery needles are not included but are available for purchase here  
These kits are made by Julia Cheung of Julia's Broderie. 
Read on for more info and her inspiration:
"Embroidery is very relaxing and peaceful. it's great to take a break from screens and do something creative (of course you can do it while you watch TV too). : ) The great thing about embroidery is it's easy to take with you so you can enjoy stitching while on a picnic or waiting for an appointment.

Embroidery has a long history, there are records going back thousands of years! It's fun to think you will be joining a long line of embroiderers as you start your kit."